Enrollment Open
Stop Extreme Disrespect: Family Trauma Solutions Webinar
Thursday, May 6 from 9 am – 12 pm EDT
3.0 continuing education hours from ASWB and NBCC
Programs to Help Professionals Treat
Traumatized Children and Their Families
Step-by-step techniques using the FST | Family Systems Trauma Model.
Stop Extreme Disrespect: Family Trauma Solutions Webinar
Thursday, May 6 from 9 am – 12 pm EDT
3.0 continuing education hours from ASWB and NBCC
Learn about the family's role in children's disrespect
by understanding the upside-down hierarchy.
Start therapy with hope for the future
by focusing on the client's competencies.
Identify the imbalance
Of love and limits.
Step into the FST Journey
by taking a webinar highlighting the FST | Family Systems Trauma model.
Enroll Now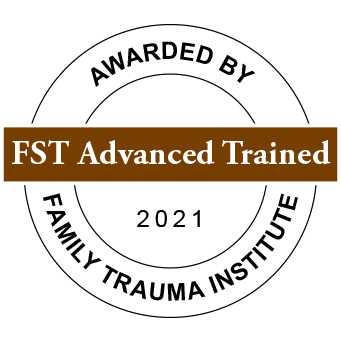 FST Advanced Training
Learn the 12 Techniques
of the FST | Family Systems Trauma Model
Get worksheets, scripts and resources
to engage families and accelerate change
Discover how to strengthen and build relationships
with parents, extended family and other support communities(via Zoom)
Attend weekly coaching with Dr. Sells
to support learning and onboard techniques (via Zoom)
Enroll Now
---
See the latest playbook
Each month a new case example along with a suggested sample trauma playbook.
Step-by-step techniques to get the traumatized family unstuck that goes beyond those highlighted in the new book Treating the Traumatized Child: A Step-by-Step Family Systems Approach.
Latest Playbook
From Dr. Sells & Ellen Souder
---
Treating the Traumatized Child
A Step-by-Step Family Systems Approach